I decided to join the "Hoo's Got Talent" round-up over at
Night Owl Crafting
this week and thought I'd share some of my recent projects...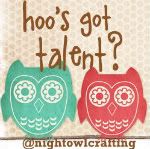 I've been keeping myself occupied recently with my new 3 month old and her 2 year old sister, but in my spare time (HA!) I've been loom knitting some cute hats for her and her older sister... Thought I'd share them with you and pass along the links to my sweet friend Brenda's blog where she shared the patterns with us in our loom class...
Here's the first one is a "pumpkin" head hat made following Brenda's pattern that you can
find here.
As modeled by 2 year old Emma
And a smaller version modeled by then-2 month old Hannah
The second hat is a Turkey Hat, again from
Brenda's blog
Emma LOVES hats :)
The last one I did is a snowman hat following the directions Brenda
posted here
, but I'll have to share photos of that one later since I've not gotten them taken yet! Hope you enjoy these few and will check out Brenda's patterns on her blog! Be sure and check back with me next week for a new
"Hoo's Got Talent"
post!